TOP 10 REASONS TO USE CONCEPT PANELBOARDS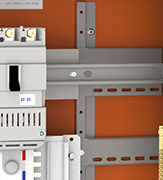 1. Cable Management
• Support brackets with built in tie down points for better cable management.
• Rolled edged to prevent damage to cables.
• Plenty of wiring room.
• Allows quicker and neater install.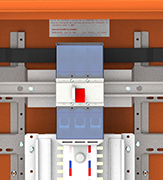 2. IP2X touch protection
• Helps prevent accidental contact with live conductors.
• Fully shrouded connections between main switch and busbar chassis.
• Encapsulated busbar style chassis with tee-off caps covering live tee-offs.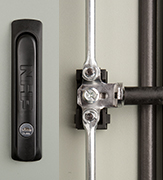 3. Handle Locking Options
• Semi flush swing handle, increased vandal resistance, helps prevents being caught on when boards are mounted.
• Different locking options CL001, 92268, pad lockable, non-locking, E-Key options, 8mm square.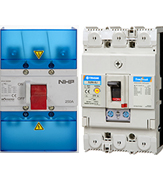 4. Inter Changeable Main Switch
• Main Switch can be retro fitted with either isolator or MCCB in the field.
• Isolator can be pad locked as standard in off.
• MCCB can be padlocked with captive accessory or non-captive accessory.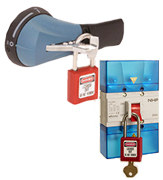 5. Pad locked devices with door closed
• The door can now be closed with padlocked devices such as; main isolator, main switch MCCB, load-break switches and MCBs.
• Increased depth between door and escutcheon.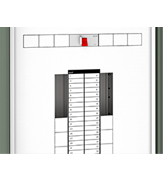 6. Din Knockouts
• Quickly add accessory items by knocking out built in knockout in the escutcheon.
• No need to use pole fillers.
• No more lost pole fillers.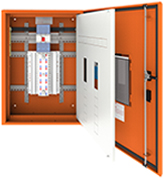 7. Hinged escutcheon
• In Concept Plus and Concept Premier the escutcheon is hinged as standard.
• Escutcheon is easily removed.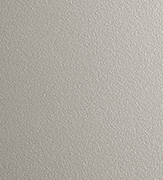 8. Tough paint finish
• New textured paint finish to hide damage that often occurs during handling and installation.
• Help prevent scuff marks and hides finger marks.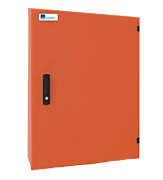 9. New true modular system
• Height of boards are made to true modular system based on 216mm modules.
• Allow different size boards to be joined or mounted side by side.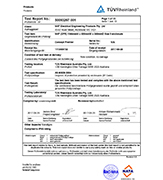 10. Genuine IP ratings
• Range tested by 3rd party, NATA accredited test station.
• Piece of mind ratings.
CONCEPT PANELBOARDS & DIN-T
Concept One - The essential panelboard
The Concept One panelboard offers the core range of essential features. Concept One offers compact enclosure with a neutral finish to blend in.
Concept Plus - The multipurpose panelboard
The Concept Plus panelboard is a multipurpose panelboard for general purpose applications offering large range of features and options. Concept Plus offers IP42 rating with option IP52.
Concept Premier - The premium panelboard
The Concept Premier panelboard is a premium panelboard offering all the features of Concept Plus but also includes additonal features such as IP66 rating, 3 point door locking and stainless steel option. The increased depth between escutcheon and door allows load break handles and locking devices to be fitted.
For all Panelboard features click here.
Miniature circuit breakers (MCBs)
- 6kA, 10kA and 15kA
- 1P, 2P, 3P and 4P
- 0.5A-125A
Residual current circuit breakers (RCBOs)
- 6kA and 10kA
- 1P, 2P, 3P and 3P+N
- 10mA, 30mA, 100mA, 300mA
- 6A-40A
Residual Current Device (RCCBs, RCDs)
- 2P - 3P+N
- 30mA, 100mA, 300mA
- 40A-125A
Accessory devices
- Shunt Trip
- Under voltage trip
- Motor operators
- Busbar combs
- Pin terminal
- Terminal shrouds
- Lock off devices